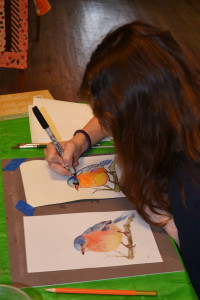 Art week for 2017 starts June 19!  

Our summer classes for children and youth are taught by our practicing artists and experienced teachers.
This year, we are offering:  palette knife painting, watercolor pencil project drawing baby birds, mixed media project (collage, paint, found objects) using your pet as a subject and machine felting to make an alpaca wall hanging, beginning knitting, and collage to name a few.  Looking forward to a week of art!
Class schedule is up… adding more, so please check back. Click on the "child/teen classes" at the top of the page!
To reserve a seat in our art classes:  Call us at the Gallery during business hours (11am-4pm).  A Gallery representative will confirm/complete registration and process payment, which is required at the time of registration.  Parents also must complete a consent form for their child upon registration or at the class meeting time.
All materials included in registration fee unless  stated otherwise in the description.  Art is messy,  so "dress for mess" and "dress for fun"!